KATRENA HART - BIO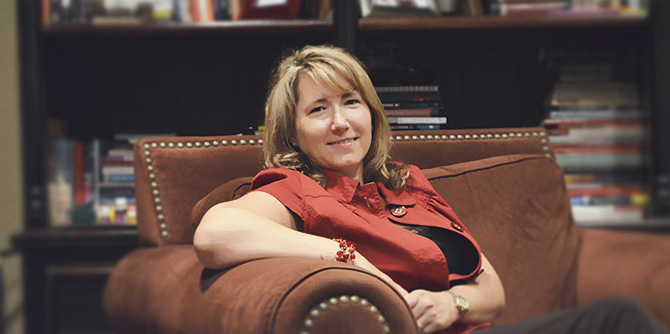 Name: Katrena Hart MS, LPC-S, TEP, CBT
Katrena Hart MS, LPC-S, CBT, ATA, CETT, TEP is a Licensed Professional Counselor (LPC) and Supervisor (LPC-S) in private practice in Allen, Texas. She is a Certified Bioenergetic Therapist (CBT) and serves on the board for the Dallas Society of Bioenergetic Analysis as well as on the training committee. She is an Advanced Training Analyst (ATA) as a bioenergetic clinician. She is trained in Eye Movement Desensitization and Reprocessing (EMDR). She is also trained in Dr. Steven Vasquez's ETT light box therapy (CETT). She is a Practitioner & Trainer of Psychodrama (TEP) and a trained Mediator. She is the Founder of Bridging Harts Psychodrama Training Institute & Psychotherapy.
Katrena's training in Psychodrama began in 1994 under Doctors Mort and Dorothy Satten. She has trained with Zerka Moreno, Terry Rustin, and many more renowned Psychodramatists. She has led personal growth weekends using psychodrama and has taught psychodrama to many clinical agencies, universities, and to many of her own students. She has created an energetic and thriving psychodrama training program. Her students are an advanced and creative group of individuals who have committed to the psychodramatic process and have created a supportive and loving community of professionals.
Katrena explores with each client a variety of tools depending on the personality of the client and the desired focus of the session. She is creative and energetic and is willing to take risks with each client to help them rediscover their true potential.
Katrena is also a mom of two growing and active boys. She and her husband, Chris, are raising their children as working parents. This helps her to understand the rigors and struggles of creating a life of balance and connection.
She has experience working with adults, couples, and teens struggling with the following issues:
Mood Disorders
Anxiety Disorders
Dissociative Issues
Obsessive Compulsive Issues
Marital Conflict and Communication
Marital Affairs
Legal Issues
Addictions
Self Injury
Suicide
Katrena graduated with honors from the University of Texas at Dallas with a BA in Psychology. She graduated, also with honors, from Texas Woman's University with an MS in Counseling and Development. She has worked for The Family Place Domestic Violence Center and Nexus Chemical Dependency Center.
What clients have said about Katrena:
"Having had limited success with previous counselors, I have found tremendous benefit to my personal growth working with Katrena. She has the ability and experience to try varying techniques and methods to work with me for my greatest benefit whether using psychodrama, bioenergetics, ETT, talk therapy, or a variety of other methods. I can't imagine doing the deep personal work that I have done over the past several years with anyone other than Katrena Hart."
-Female Client, age 40
"I can not put into words the huge amount of progress I have made working with Katrena as a client. To be successful in therapy the client must be willing to do the work and also have a therapist that has already done their work. It obvious that Katrena has done her own work and it shows in how she presents herself as a therapist. She is creative, supportive, understanding, grounded and centered. After working with Katrena for a few years, I realized she is one of the top therapist practicing in the United States."
-Male Client
Testimonials:
"Katrena Hart is truly one of the best clinicians in the Metroplex. Her knowledge of her craft and her skillful delivery assist clients in meeting their needs in an efficient and effective manner. She has a witty personality and genuine concern for the growth of her clients. If you are looking for a counselor to assist you in dealing with personal and/or relationship issues, I highly recommend Katrena Hart."
- Dr. Ken Bateman
"Katrena Hart not only has a compassionate heart, but a high level of therapeutic knowledge that extends far beyond that of most therapists. Her skills include a diverse array of powerful methods which allows her to custom tailor her methods to each client."
- Steven Vazquez, PhD // Author of: Emotional Transformation Therapy - An Interactive Ecological Psychotherapy