COMPANY APPROACH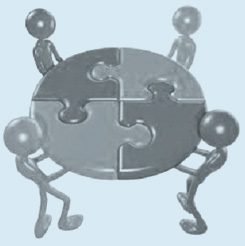 We are a group of professionals who have come together to provide a service to those in need and in crisis. We work as a team in offering our skills to the families or individuals who take the risk in trusting us.
We meet and discuss cases weekly or monthly, depending on the needs of the client. It is not unusual for one of our staff members to be the clinician to a couple, while another of our staff is working with the child. Another team approach we may use is, when working with a couple there may be three clinicians involved, one for the couple, and the other two to work separately and individually with each of the partners.
During our staff meetings, we discuss the dynamics of each case and help one another to offer the best care for the family or individual involved. The client always has the right to set up appropriate parameters for confidentiality, while many clients prefer the team approach.
Our team approach helps us to stay current with client care and be accountable with one another. We share new knowledge with one another from trainings we have attended, or new visions for client treatments. Our team can sometimes be a place for us to push each other, while at times, a place for us to be playful and creative with our client strategies.
Many on our team have worked together for years so we have the advantage of knowing one another quite well. We don't always agree on the same solution, yet always find a resolutions and work through what is best for the client. We have a great respect for one another and are willing to be honest and ethical with our decisions.
It is often difficult to build trust in a therapist. It has been stated that it takes an average of three months to trust in a therapist. We take pride in attempting to be a place offering the safety, warmth, and commitment that will help you to trust us. As you build trust with your therapist, your confidence will expand thus allowing yourself to help take the next right steps. Motivating and encouraging you towards your growth and healing.